Reaching Beyond the Classroom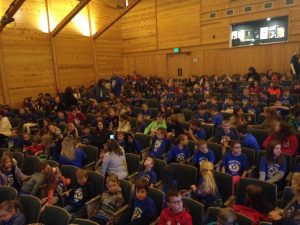 Celebrating our students was one of the many reasons the whole school took a field trip the Hart Theater in Waynesville to see Aesop's Fables performed by the professional children's theater group The Barter Players from State Theater of Virginia.  Looking out over the audience for 200 plus students and staff it was a sea of blue.  Each student and staff member wore their Riverbend Blue Ribbon T-shirts for the first time.  The field trip was an exciting experience for all.  The Barter Players performed many different fables told throughout the play.  At the end, the actors introduced themselves and allowed some time for questions from the audience.  They discussed costumes, sets, how they become actors and much more.
We want to thank our parents and community for the overwhelming support of our Pennies for Panthers that provided the funds for this unique experience!