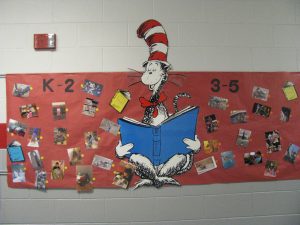 Can you read in the House?
Can you read to a Mouse?
Can you read while playing in a Band?
Can you read while doing a Headstand?
Riverbend Media Center is having a
WACKY READING Photo Contest

to find our wackiest readers. It will run from Feb. 1st- Feb. 22nd. Students can enter the contest by submitting a photo of them reading in some WACKY way or place. The winning photo from K-2 and 3-5 will receive a $20.00 gift certificate to the Spring Book Fair on Feb. 27th – March 3rd.
Winners announced on Friday Feb. 23rd.
Photos can be submitted in print, USB drive, CD, or by emailing Mrs. Barker.
nbarker@haywood.k12.nc.us
Photos will be displayed on the
bulletin board outside the library
during the contest/book fair
for teachers to vote on our Wackiest Reader!